Wouldn't you love to have a BellaNaija wedding? To have that Valentino dress, make everyone jealous and all the ladies want to be you? Wouldn' be nice to have all your money troubles disappear? You can do things at your own face from a point of comfort. Or maybe you're just tired of sharing the bills and having to understand his financial situation. 
Girl, you deserve the best in life! Sometimes, you might not just be so lucky to have it happen to you by accident. So go seek it out. Go and find the love of your life that will pamper you will luxury. He might not be hanging out in your usual circle. So...go and find him in his. 
There are a few places in Lagos that are known to be where your future bae hangs out. Most of these places are in Lagos Island, so you might actually want to consider moving there -if you don't already. Keep reading for a cheat sheet on landing a life of wealth.
1. Protea Hotel


Protea Hotel is one of the few establishments in Ikeja that the rich young men are known to congregate. You can also cup yourself an oyibo bae if you play your cards right.
2. Four Points


Four Points by Sheraton is the younger cooler version of the vintage Sheraton Hotel. The clientele is notably younger too but the fatness of their wallets is not to be underestimated.

3. Eko Hotel
You are seeing the trend right? Rich men like to hang out in hotels in Lagos. But not just any hotel, the high rise ones with expensive rooms like Eko Hotel. Just stroll in, talk to the receptionists, hang around the lobby and flirt. You never know you might get lucky. 
Legend has it that men in Eko Hotel are considerably generous.
 
4. Sheraton Hotel
Sheraton!. You can't go wrong with old faithful. Just buy yourself the most expensive bottle of coke you will find in Lagos and look pretty. 
5. Palms Shopping Mall
You are probably thinking, "Is it not the same ShopRite I go to every day?" No it isn't. There's Palms Shopping Mall and there's Palms Shopping Mall. You need to open your third eye. There are several lounges in the mall you've probably never thought of entering. You should. Your future husband is there.
6. Atican Beach Resort
Compared to Elegushi Beach and Oniru Beach, Atican Beach is probably not considered popular. But… it's one of the Island's best kept secrets. It's private so you can easily walk into a rich young man looking for some relaxation or maybe a group of rich friends just hanging out. 

7. Lekki-Ikoyi Bridge at 6 am


Women are masters at multitasking. It is a known fact. So why not make it worth your while. You can stay fit and meet the love of your life all at once. Here's how to do it. Wake up in the early am, dress in really nice up-to-date sportswear. No hair net, no hair rollers. Pack that thing is a cute ponytail. Look your best but make sure it's effortless. You want to give the impression that you woke up like . Now jog across Lekki-Ikoyi bridge, but not too hard, you have to look like you are floating with every step. 
When a car headlight approaches, look unbothered. But also observe the caliber of vehicle coming your way. It's the very first impression that counts in case. You may not meet your Mr Right the first time, but if you are consistent, you'll get noticed.
8. Intercontinental Hotel


Intercontinental Hotel is another hotel with its lobby lined with gold, get to digging.

9. Lagos Oriental Hotel


Olamide shot his "Lagos Boys" video here. So that should tell you something about Lagos Oriental Hotel.

10. Murtala Mohammed Airport
Don't all hollywood romances have an airport scene? Why should our dear MMA be any different. Just be careful not to encounter an over dressed "Importer Exporter" claiming to be an O.B.O.
11. Wedding Receptions in Lagos Island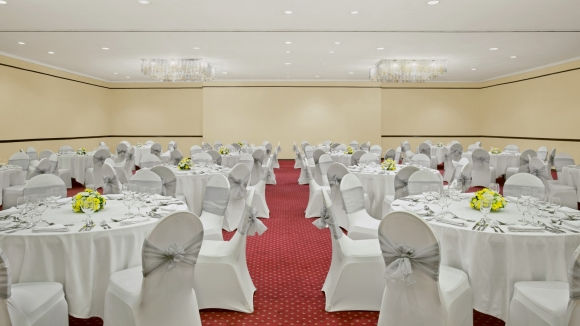 Go to the wedding looking like a "Slay Mama", make sure you walk around a lot, so he can get several views of you. There's always that one guy at the wedding that catches your eye and if the wedding is on the Island, then your chances of catching a sugar bae increase exponentially.

12. La Mango Restaurant


La Mango is arguably the most talked restaurant and bar on the mainland. So of course, rich men like to go there. They also particularly love its outdoor seating, it's breathtaking poolside and rooftop terrace. Do you know what means for you? You can wear your swimsuit and show off your best assets. 

13. Ikeja City Mall (Specific Places like Rhapsody's and Spurs)
Like I said about The Palms, these malls are not to be underestimated. Look beyond what you see.

14. Zenbah


is one of the most expensive cocktail places in Lagos. You know what that means. No further explanation needed. 

15. "New Age Churches"


Elevation Church, House on the Rock, COZA, Guiding Light Assembly and all them "New Age Churches" are the in thing now. What's better than a rich man who enjoys the presence of God?
There you have it. You've gotten all the tools. Now go forth and prosper. Don't be selfish, share with others. You will need a wingman when you go to these places any ways.

Source: ugotalksalot.com